Thrive Primal is about shedding conventional dogma and taking responsibility for your own wellness.
It's about being curious and conscious, making smart low-effort high-impact changes, that eventually add up to a lifestyle that is health-promoting, intentional, and beautiful!
Thrive Primal covers simple and friendly instructions on how to:
shop, cook & eat cleaner, more nourishing food (with an ancestral / paleo / primal approach)
use nutrition & natural remedies to prevent, manage or heal health conditions & chronic pain
make & use non-toxic cleaning and self care products
maintain or regain your natural effortless beauty and youth
take better care of yourself and your family
optimize hormone balance, mood, digestion, immunity and fertility
exercise efficiently, get better sleep & have solid energy
feed your soul by connecting with yourself, other people and the Earth
feel free and fulfilled living as the best version of yourself
Liivi Hess
As one of fewer than 60 Certified Integrative Nutrition Health Coaches in Canada, I'm trained to empower you with knowledge and help you grow into your 'someday self' a whole lot sooner.

Check out my professional health & nutrition coaching website here.
I also write about nutrition and natural remedies at The Alternative Daily, and am currently training to be a childbirth doula through the Childbirth and Postpartum Professionals Association.
My wellness philosphy
The moment I stumbled upon the ancestral nutrition and real food movement; I was hooked! It was immediately clear to me that this is the only logical, scientifically-backed, full-circle theory for holistic wellness.
[xyz-ihs snippet="IIN-badge"]
The idea is to eat, move and live more similarly to the way our ancestors did pre-agriculture and industrialization, since these are recent events in the scheme of human evolution, and we are poorly adapted to the lifestyle they impose on us.
Thrive Primal will help you explore disease prevention through nutrition, natural self care, and freedom lifestyle design. I hope to inspire you and learn together, so we can take positive control of our health and feel super every day!
Will Nicolson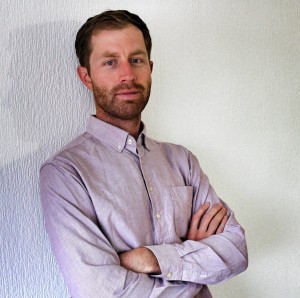 I'm Liivi's hairier counterpart, and have the pleasure of contributing to and managing Thrive Primal.
An environmental scientist by trade, my passion for health developed in parallel with Liivi's, however I haven't taken quite as many steps as her to make it official! I still practice environmental management in a professional propensity, but I'm always researching and finding out more about health and nutrition, and like nothing better than to pass this useful knowledge on to others.
My other great passions are travel and fitness, and I've conveniently aligned these three into a trifecta of awesomeness at www.healthywealthytraveller.com. Check it out, to find out where we are in our travels and how we're staying happy and healthy on the road.
Things you'll often find Liivi doing:
collecting food from quality local markets and farms, or sometimes even foraging for wild foods
doing yoga or tabata in our living room in PJs
meditating on the shore of Lake Ontario (I'll be meditating on the shore of a less-polluted lake soon, ha. But it's still beautiful.)
petting my cute kitty cat Ollie or tantalizing him with string or crumpled up bits of paper
making music or watching old VHS's with my 3 fabulous sisters
going on adventures with my hot man-partner Will (the word "boyfriend" doesn't really cover it)
cooking up insanely tasty & nutritious primal meals, also with Will
occasionally feasting on whatever the **** I want, like Big Fat Burrito, or "normal" ice cream, or poutine!!
collecting dreams & wishes and alchemizing them into plans (the dreams & wishes part often happens on Pinterest)
poring over books and the computer learning ever more and more about nutrition, personal development & lifestyle design
frequenting indie music gigs as often as we can, sometimes travelling long distances (LOLLA!)
cycling, canoeing, walking, x-c skiing, or maybe even dogsledding around in beautiful natural surroundings

 Grab my free beautifully-designed cheat sheets
If you have trouble staying on track with your good habits (like I do), grab my breakthrough cheat sheets. They include a tracker which you can keep somewhere visible so you can't ignore it. Often getting it down on paper is all you need to seal the deal and make real progress!

 If you're a health coach, or passionate about wellness…
I'm always looking for awesome people to partner with. 2015 is going to be a HUGE year for me, and I'd like it to be for you too! If you want to learn how to duplicate my business model, check out this page for more info.
Affiliate Links
Some of the links on this site are for the purpose of sharing products or services that we enjoy and recommend. If you buy items through these links, you pay the same price, however Thrive Primal receives a commission as a thank-you from the vendor for sharing their product. This is a way to keep Thrive Primal going and support the continued sharing of this valuable information. Thanks for showing your support by shopping through our affiliate links!